2016 Six Sigma Green Belt Class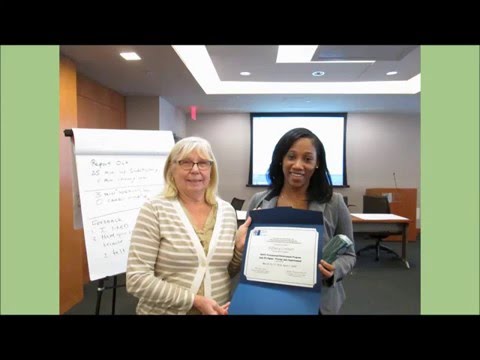 About Us
The Professional Development and Learning Management (PDLM) Office manages training and professional development opportunities designed to enhance the knowledge, skills, and competencies of CUNY employees. College and Central Office employees in various positions can benefit from professional development and training sessions that present progressive and innovative workplace effectiveness tools created by some of the most celebrated thinkers in the workplace learning field.
Mission
PDLM's mission is to promote individual and organizational excellence for employees of the nation's largest urban institution of public higher education.
Schedule is subject to change
October
MS EXCEL 2010: An Introduction, L1
Course Code:  WTT141
Thursday, October 19, 2017
Need an in-depth review of the basics of Excel?  This is the course for you!  Learn the best ways for creating, editing, formatting, and printing Excel worksheets.  Then, enjoy a brief introduction to the "magic" of formulas, functions, and chart wizards. Target Audience:  All Staff
 Schedule is subject to change
November
MS EXCEL 2010: Formulas and Functions
Course Code:  WTT141A
Wednesday, November 1, 2017, 9:00 AM – 12:30 PM
Need to calculate data in an Excel spreadsheet? Create formulas to let Excel do the calculations for you, and then use functions (prewritten formulas) to shorten and simplify your formulas.  Learn to use formulas and functions to perform simple or complex calculations on a single worksheet or across multiple worksheets, to combine multiple columns of data into a single column, and to effectively utilize the five most common Excel functions.  Target Audience:  All Staff
MS EXCEL 2010: Pivot Tables
Course Code:  WTT141P
Wednesday, November 1, 2017, 1:30 – 5:00 PM
Need to perform an in-depth analysis of the data in your Excel spreadsheet or quickly answer an unanticipated question about your data?  Learn to create a PivotTable or PivotChart report.  Pivot tables allow you to summarize values in an Excel spreadsheet without having to create formulas to perform the calculations.  Rearrange your summarized data simply by rotating row and column headings to create easy to read reports.  Target Audience:  All Staff
Smart Solutions for Unacceptable Employee Behavior
Course Code:  C9017
Tuesday, November 7 & Wednesday, November 8, 2017
From "first approach" to "last resort" actions, this workshop will explore the management skills and techniques needed to stop the negative effects of problem performers, bad attitudes, and unacceptable behaviors. Focus will be on employing "smart" methods for managing, controlling, and resolving problem situations without the resentment and anger that some outdated approaches may generate. Target Audience:  Managers and Supervisors
MS WORD 2010:  Using Styles, Graphics, Symbols, Charts & Translation
Course Code:  WTT131A
Monday, November 13, 2017, 9:00 AM – 12:30 PM
Want to create more exciting, professional looking documents using MS Word? Learn to use graphics, charts, and symbols to communicate information visually rather than simply using text.  Take your Word documents to the next level using styles and themes:  predefined combinations of font style, color, text size, and effects.   Broaden your communications by using the translate feature to translate words, phrases, paragraphs, or an entire document from one language to another.  After completing this workshop, create eye-catching fliers, organizational charts, marketing and promotional materials, and other professional documents with your newly enhanced skills!  Target Audience:  All Staff
MS WORD 2010: Using Mail Merge, Tables, and Electronic Forms
Course Code:  WTT131P
Monday, November 13, 2017, 1:30 – 5:00 PM
This workshop will provide skills for organizing and presenting information in a variety of formats using MS Word. Learn to use the mail merge feature to produce letters, mailing labels, envelopes, name tags, and other documents from information stored in a list, database, or spreadsheet.  Learn how to summarize and present numerical data or text information in rows and columns using tables. Finally, are you looking for a way to collect and organize information from others? Learn to create forms that others can fill out electronically, including check boxes, text boxes, date pickers, and drop-down lists.  Target Audience:  All Staff
Attitude is Everything
Course Code:  C9266
Tuesday, November 14, 2017
Attitude is a highly personal and sensitive topic. As attitudes deteriorate, so do commitment, loyalty and, most importantly, performance. Everyone encounters setbacks that can shake their attitude into a negative focus. This course provides participants with the knowledge and skills to develop and maintain positive attitudes while becoming sensitive to underlying causes leading to negative attitudes. Various methods for responding positively and productively to different attitudes in a positive and productive way will be explored. Target Audience:  All Staff
Data Analytics for Managers
Course Code:  C4311
Monday, November 27, 2017
This course introduces managers to the concept of data-driven decision-making and management.  Participants learn how to better use data for setting goals and defining objectives while identifying the proper metrics for those objectives, and the elements of meaningful management dashboards.  Steps for assessing the right analytical tools to manage projects, processes, and analytic staff within departments will be addressed. Target Audience: Directors, Managers, and Project Leaders
 Schedule is subject to change
December
MS POWERPOINT 2010: Creating Powerful Presentations
Course Code:  WTT151A
Monday, December 4, 2017, 9:00 AM – 12:30 PM
Learn how to create presentations that gain attention and enhance your credibility.  Deliver informative and visually appealing presentations that engage your audience.  Avoid common "PowerPoint pitfalls" and learn how to handle questions and comments with ease.  Target Audience:  All Staff
MS POWERPOINT 2010: Dynamic, Impactful PowerPoint Delivery
Course Code:  WTT151P
Monday, December 4, 2017, 1:30 – 5:00 PM
Learn the fundamentals of delivering a dynamic PowerPoint presentation.  Deliver presentations that gain attention and enhance credibility.  Learn to use visual aids as they are intended, deal effectively with fear and anxiety, and handle questions and comments with confidence.  Target Audience:  All Staff
Conducting Effective Performance Appraisal Interviews
Course Code:  C1012
Monday, December 11, 2017
This practical workshop will boost the confidence and skills of participants in conducting both interim and yearly feedback evaluation interviews with their staff. It will focus on the core purposes of performance evaluation and the communication skills needed to discuss employee performance.   Target Audience:  Directors, Managers, and Supervisors
Schedule is subject to change
January
Lean Six Sigma: An Introduction to Quality and Productivity Improvement
Course Code:  C7784
Thursday, January 11 & Friday, January 12, 2018
Are you feeling pressure to do more with less time and resources?  In this two-day seminar, participants will learn proven methods for achieving higher productivity with limited resources.  Lean Six Sigma provides tools and techniques to streamline tasks, improve time management, and produce higher quality work while satisfying internal and external customers.  These tools, originally developed for business, are now used extensively in government and higher education. Target Audience: Directors, Managers and Supervisors
Foundations of Management
Course Code:  C1006
Wednesday, January 24, Thursday, January 25, & Friday, January 26, 2018  
This course provides an overview of the role of the manager in the public sector. Emphasis is placed on identifying internal and external customers, devising and implementing process improvement, and tracking measurable outcomes. Managers will explore ways to develop strategies for employee involvement through team building, mutual problem-solving, and decision making. Target Audience:  Directors and Managers
Prerequisite: Essentials of Supervision for the 21st Century or two years managerial experience
The Professional Development Program for CUNY employees now offers four specific skill enhancement certificate programs.  The programs are the Certificate for Administrative Professionals (CAP), the Certificate Program for Professional Staff (CPS), the Managerial Competencies Certificate Program (MCC), and the Supervisory Competencies Certificate Program (SCC).  Participants must complete three core courses and two elective courses within a two-year period.  For more information, click on the applicable flier to the right under "What's New In PDLM."
The OHRM Professional Development and Learning Management Office partners with various workplace learning providers to offer targeted skill-building opportunities for various CUNY audiences.  Professional partnerships with corporate learning leaders, CUNY colleges, other University offices, educational institutions, and noted employee development facilitators have helped PDLM to offer timely targeted learning sessions to CUNY employees.
Passenger Van Training for CUNY Drivers
Since June, 2011, the OHRM Professional Development and Learning Management Office has collaborated with the University's Risk Management Committee to coordinate a driver safety course for campus passenger van drivers.  The customized training session entitled "Defensive Driving for Passenger Vans" addresses the unique challenges imposed upon passenger van drivers in New York City.  Over 600 CUNY drivers have taken the course since the training began.  Employees with van driving responsibilities should contact their Campus Fleet Coordinator for more information.
Registration for Risk Management and Compliance Training
Registration procedures and eligibility requirements for these learning session programs are communicated to the specific audiences when these programs are scheduled.  Each participant must be approved for registration by the appropriate campus or university coordinator.  Please contact your coordinator for more information.
Workplace Violence Prevention Training
Workplace Violence presents a serious occupational safety hazard to the University and its employees.  CUNY is committed to the prevention of workplace violence and will respond promptly to any threats and/or acts of violence.
New York State law mandates campuses to assess prevention needs and potential hazards, and to provide employees with campus-specific information and training in the risks and prevention of workplace violence.  The City University of New York's Preventing Workplace Violence online course is designed to familiarize CUNY employees with the University's Policy 6.09 Violence Prevention and to provide information on the New York State law, workplace violence risk factors, and methods for preventing, identifying and responding to threatening situations in the workplace.
CUNY employees are required to complete this training annually.  Employees with training questions should contact their campus Workplace Violence Prevention Training Administrator.  Click this link for a list of Campus Workplace Violence Prevention Training Administrators.
A copy of CUNY's Policy 6.09 Violence Prevention is available at the following site: http://policy.cuny.edu/manual_of_general_policy/article_vi/policy_6.09/1/text/#Navigation_Location.
To register for CUNY Professional Development Program (CPDP) courses, employees must complete the E-Application ("E-App") and submit it to their college Human Resources Office and PDLM.  E-Apps must reach PDLM at least 10 days before the start of a course.  Click on the button below to open the E-App, and follow all instructions to ensure that your application is processed.
PDLM partners with campus Human Resources Offices to offer DCAS Citywide Training Center courses on their campuses. Departments must work with HR to arrange "on-site" courses for 10 to 24 employees at least two months before the course is scheduled.
Courses at Citywide Training Center (CTC) through DCAS
The PDLM Office serves as the CUNY liaison to the CTC and must sign and submit all CUNY applications to DCAS.  Complete and download the CTC application, then have your supervisor sign the completed application and forward it to your College Human Resources Office.
Download the CTC Application >>